Headmasters' and Headmistresses' Conference (HMC)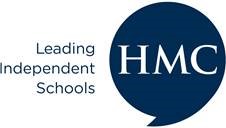 The Headmasters' and Headmistresses' Conference (HMC) is an association of the head teachers of 361 independent schools (both boarding schools and day schools), some traditionally described as public schools. 298 Members are based in the United Kingdom, Crown dependencies and the Republic of Ireland. There are also 50 Foreign Members (mostly from the Commonwealth) and 13 Associate Members who are head teachers of state schools or other influential individuals in the world of education, who endorse and support the work of HMC.
History
The Conference dates from 1869 when Edward Thring, Headmaster of Uppingham, asked sixty to seventy of his fellow headmasters to meet at his house to consider the formation of a "School Society and Annual Conference".
From that date there have been annual meetings. It changed its name from the "Headmasters' Conference" to the "Headmasters' and Headmistresses' Conference" in 1996. The current Chair is Richard Backhouse, Principal of Berkhamsted School.
Membership of the HMC is often considered to be what defines a school as a public school in England and Wales. Not all independent schools are in the HMC; in particular, many notable girls' schools are not members, partly because historically the HMC was for boys' schools only. Today, HMC's membership includes boys', girls' and co-educational schools.
HMC Membership
The Headmasters' and Headmistresses' Conference is a membership organisation consisting of full members, international members, associate members and honorary members. In accordance with HMC's Articles of Association, the maximum number of members of each category is determined by the HMC Committee. Only full members of HMC have voting rights under the Articles of Association. The HMC Committee is empowered to introduce new categories of membership as long as they do not have voting rights.