Parker Hall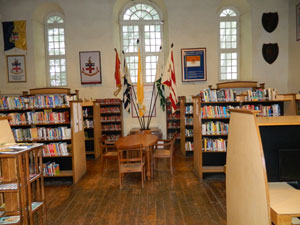 Parker Hall is named after Miss Ada Parker, who headed the Girls' School from May 1880 to February 1923. Bishop Barne wrote in the Sanawarian, Dec. 1941: "We must work out how to perpetuate her memory in Henry Lawrence's Sanawar which she loved so well and served selflessly."
Since May 1939 Parker Hall was used as the girls' dining hall. It was an extremely beautiful dining hall. Lovely old colored prints of British historical events in antique ornamental frames enlivened the walls. Later preppers also dined with the girls. They were taught table manners here. With the building of the common dining hall, Parker Hall became the School Library in 1980.
Library
The Lawrence School, Sanawar Library is a modern library. Entire library collection is computerized, bar-coded and searchable through OPAC using "Vidya" package. It is an integrated multi-user library management system that supports all in-house operations of the Library. Software consists of modules on acquisition, cataloguing, circulation, serials, article indexing, stock verification and OPAC. All Library Procedures i.e. acquisition, technical processing, circulation, book reservation and stock verification are automated.
Objectives of Library
1. The goal of the School Library Resource Center is to ensure that all members of the School community have equitable access to books and reading, to information, and to information technology.
2. To build a State-of-the-Art Knowledge Resource Centre for management and allied subjects.
3. To provide appropriate knowledge resources to meet the information needs of the academic community of the School.

RESOURCES
The library has a large range of resources. It holds a very rich collection of printed as well as electronic resources which includes books, periodicals, e-Education CDs and historical and classical movies etc.
| | |
| --- | --- |
| Books | 47715 |
| Current Subscribed Periodicals/Magazines | 30 |
| Historical and Classical Movies | 303 |
| Newspapers | 12 |
ONLINE RESOURCES
Sanawar library has digital repository of 250 old documents from 1847 onwards. These documents contain old rare books, School Orders, magazines, admission record, School Newsletters and hand written documents. The total number of digitized pages is 60,000 and are available on the School Website.